Nourish your Body, Heart + Soul: Yoga Retreat in Southern Tuscany
With Sharon and Raissa
September 30 - October 7, 2023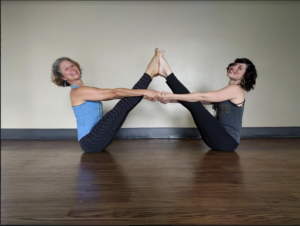 Join Raissa and Sharon this fall for a yoga retreat in the heart of the Tuscan Maremma, a richly historic region in the south of Tuscany surrounded by woodlands, vineyards, olive groves, mountain streams, spectacular views and untouched landscapes.Together we will ground down and experience a bountiful natural and cultural wonderland while you immerse yourself in your yoga practice without distractions. Nourish your body with fresh, seasonal and organic cuisine highlighting produce from our host family's onsite garden. Journey to your heart as you connect with yourself, the majestic land we are privileged to experience and a community of yoga practitioners from all over the world.
On this retreat, we invite you to take your heart to the Tuscan countryside and let it breathe!  Allow the roles you fulfill in life to drop away during our time of renewal together — the work, relationships, duties and other human beings that you take responsibility for — like shedding layers of clothing, gift yourself with an effortless sense of being exactly as you are. We offer several yoga, meditation and breathwork practices daily to invite you on a journey of reconnection to your physical body, spirit and heart, via the ancient practice of yoga. You'll have ample time to relax, journal, explore the countryside, take a cooking class, enjoy local wine tastings, visit historical sites, and more.  Our hearts are filled by the thought of squeezing each other , laughing, reconnecting, practicing, and exploring this magical region of Italy together!
What's Included
7 nights accommodation
Daily Italian breakfast and multi-course dinner with produce from the on-site organic garden
All daily classes with Sharon and Raissa
Exclusive Access to property, grounds, gardens, pool, and yoga spaces
Tuscan Cooking Class onsite with fresh produce from the garden
Transportation to and from Rome's International Airport (FCO) on the first and last day of the retreat
What's Not Included
Flights to/from Rome's International Airport (FCO) and travel insurance. Travel insurance is required. Guests are responsible for purchasing travel medical insurance and cancellation insurance.
---
Optional Additions On-site
Various local outings and tours of Italian ruins, hot springs, cathedrals, restaurants and more
Massage
Wine Tasting
Leader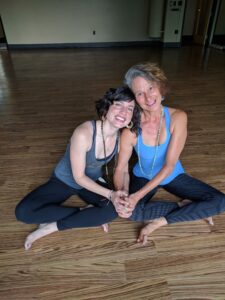 Sharon and Raissa
Raissa Lerner Raissa guides the practice of yoga as a heart-opening, spiritual journey ~ a deeply intentional moving meditation, inspiring students to connect with their best intentions and most authentic sense of self. Expect to cultivate total body awareness, functional alignment, and mindful breathing to build strength and stamina with…
Learn more about Sharon and Raissa